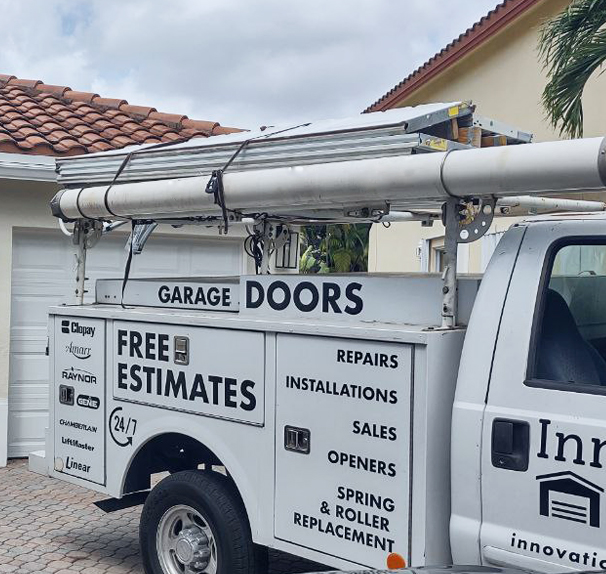 Garage Door Repair and Services in South Miami Area
If you are looking for garage door service in South Miami, FL as a repair, to replace the old door you have now or if you need a new opener, you are in the right place. Innovation Garage Door has the best solution for you.
Broken spring repair for garage doors in South Miami.
Because garage doors are difficult to operate when springs are broken, we offer same day service for broken spring repairs. It is extremely dangerous to attempt to replace the springs on your own garage door by yourself. A broken garage door spring in is one of the most common garage door repairs in South Miami, FL. Over time, your garage door springs will begin to wear and tear from repeated use. After a period of time, the garage door springs will break, leaving the garage door inoperable and requiring immediate repair. We fix any Broken Spring repair or replacement you need.
Repair of broken cables in garage doors
Garage door cables, using the tension provided by the springs, are designed to lift the full weight of the garage door while it is in operation. Over time, these garage door cables will weaken and eventually break. If your garage door is stuck halfway or isn't hanging straight on the rails, it may be a sign that your garage door cables need to be replaced. Just like repairing broken springs, repairing garage door cables in South Miami, FL that are broken can be very dangerous, leading to serious injury. It is always recommended to contact a South Miami garage door professional like us for all broken wire repairs.
Damaged panel replacement Service
If you've ever accidentally hit your garage door with your car or for some reason been hit, you may have noticed that even minor accidents can cause nasty damage to your garage doors, and in most cases, they can cause damage. Fortunately, you don't always have to buy a new garage door when your old one is damaged. Innovation garage Doors can replace with replacement parts like panels and hardware, saving you money and keeping your door in pristine condition in the South Miami area.
Garage Door Openers in South Miami
Garage door openers are often overlooked since your home most likely came with one pre-installed. But if you're shopping for a new garage door opener in South Miami, the process isn't as straightforward as you might think. Modern systems have a wealth of features and add-ons, and there are now numerous types of garage door openers available at a wide range of prices. In general, garage door openers aren't too expensive, but you'll want to make sure you choose one that will last for many years. It takes a professional hand to install your garage door opener. Innovation Garage Door has the right experience to leave your garage door working correctly.
Repair bent or broken rails
When the garage door tracks are bent or broken, the garage door will stop opening and closing properly. Some garage door track repairs are minor and only require adjustments to the existing track; other repairs require replacing the track with a new garage door track. When a garage door professional inspects the damage to your garage door track, he or she will conclude whether the track can be repaired or needs to be replaced. At Victor Garage Door, we always try to repair your existing hardware when that's an option. It's just one more reason you can trust our company to treat you right on every job.
Safety Sensor Alignment Service
Your garage door safety sensors automatically stop the garage door opener from operating when people or objects are in its line of sight. Sometimes these sensors get misaligned and the door gets stuck when nothing is in its way. To get your system working again, you'll need a garage door professional to align the sensors correctly and allow the door to go all the way down. If your door won't close, you most likely have a misaligned sensor. Contact us, we offer that service in the South Miami area.
Garage doors in South Miami, FL.
What are the best brands of garage doors in the South Miami area. Many factors will determine your choice of garage door brands, including material, major features, whether they are hurricane resistant and high impact, how they fit into the overall look of the home, and your budget. . It is crucial to define well and precisely what you need because the garage door is an important investment, and you will use it for 15 to 30 years.
Garage Door Companies in South Miami
If you are looking for the best companies that can solve all the problems related to repairing garage doors, such as repairing broken springs, broken or sticking out cables, problems with your door opener, etc. You are in the right place. Innovation Garage Door offers this service in South Miami, FL. Call us today for a Free Estimate!
¿Fast, Affordable, and Reliable Garage Door Residential or Commercial Service in South Miami?
We help to choose the most convenient solutions, according to your budget and preferences in South Miami Area.